Int'l Business overview
Steadily growing in the Korean equity brokerage service and building a solid foothold as a major player
Having a wide range of experience in program trading, covered short-selling and voerseas DR sales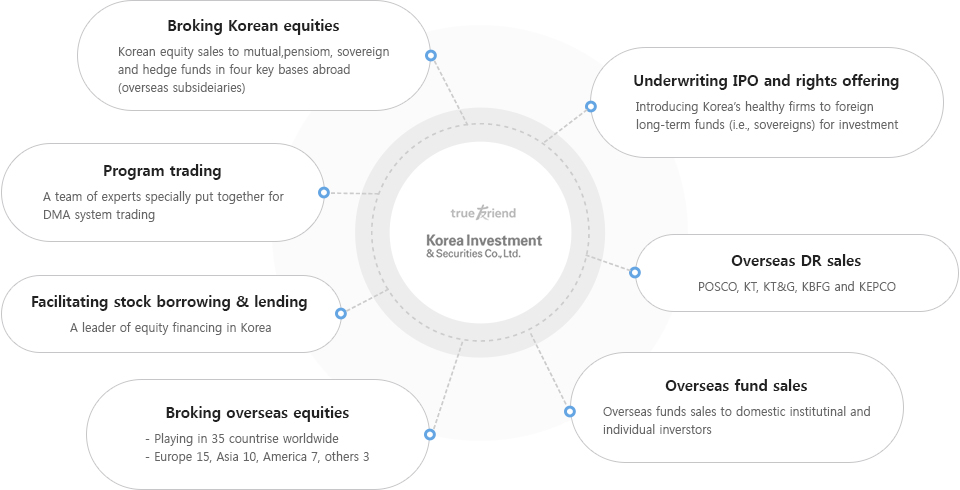 international dept. - Strengths
Strong global networks
KIS has extensive sales networks that run across the world's financial centers - Hong Kong, Singapore, New York and London. KIS is Korea's only broker with a sales office in Singapore.
Synergy with domestic equity sales
KIS ranked second in terms of equity brokerage commissions revenue on domestic institutional trades in 2008. Thanks to the industry-leading domestic equity sales, KIS has demonstrated an excellent capacity in block trading bridging Korean and overseas markets.
Outstanding DMA (Direct Market Access) service
KIS has developed knowledge in the online trading segment thanks to its excellent IT backup service and can offer customized trading systems for customers. The optimal trading platform enables customers to send orders in a timely, reliable fashion. KIS has the largest share in the futures and options DMA market.
Leading underwriter of IPOs
KIS held its unwavering first position in the number of IPO underwritings with a 28.2% market share in 2008. The impressive performance gives KIS a competitive edge in securing IPO stocks.
Superior sales personnel and execution ability
About 50% of KIS' sales personnel have working experience at prestigious global investment banks. KIS has superior traders and experienced dealers who can offer quality service and execute customer orders in a prompt and satisfactory way.
Brokerage
Brokerage for domestic stocks and futures/options, targeting foreign institutional investors
Brokerage service for Korean investors to invest overseas including overseas stocks and overseas bonds in the US, the UK, Japan, Hong Kong, and China.
Stock Borrowing
Brokerage of stock borrowing and lending for domestic and foreign investors through the Korea Securities Depository.
Brokerage
Support market listing and overseas stock sales when a domestic company wants to list on overseas markets.
Brokerage
Provide Onshore Trust Funds & Overseas Investment Funds. For more information, you can refer to "Investment Trust" in the "Business" section.
international dept. - Performance
IR Conference
| Period | Region | Remarks |
| --- | --- | --- |
| Feb. 2010 | Asia | Busan Bank, Celltrion, CJ CGV, Doosan, Corp, KB Financial Group, KT, Melfas, Nexen Tire, S1, Samsung Card, Samsung SDI, Woongjin Chemical |
| May. 2010 | Europe/USA | Samsung Electronics, Hansol Paper, Korea Exchange Bank, Kia Motors, Korea Investment Holdings, Lotte Shopping SK Telecom, CJ CGV, NC Soft, Samsung C&T, Nongshim, Yuhan Corp |
| Aug. 2010 | Asia | Cheil Indstry, Korean Air, Glovis, Melfas, Asiana Airline, Silicon Works, Woongjin, Chemical, KEB, KT&G KT, Hanwha, SKC, LG International, Hyundai Merchant & Marine, Lock & Lock, Daewoo E&C, SK Broadband, Nexon Tire |
| Nov. 2010 | Europe/USA | Amore Pacific, Doosan, Doosan Heavy, Green Cross, Hyundai Mobis, S1, KB Financial Group, Kiwoom Securities, LG Display, Samsung Fire &, Marine, SK Broadband, Sung Kwang Bend, Woongjin Chemical, Woongjin Thinkbig |