Domestic Funds for Foreign Investors
Requirements of Foreign Investors
Individuals or corporations with foreign nationality, under Article 2 of the Regulation on the Securities Transaction by Foreigners, and having neither
address nor residence in Korea for more than six months. Those foreigners having resided in Korea for over one year may open a new account in
Won at any sales branch of Korea Investments & Securities Co., Ltd in Korea immediately without undertaking the procedures prescribed in this
summary.
Required Documents for Applications
Application for Initial Investment
Application Form for Korea Investment & Securities Co,. Ltd's Investment Trust Fund
Standing Proxy and Custody Agreement
(Click below button to download)
Copy of Identification Document. see Example below Standing Proxy Agreement
Application for Additional Investment and Redemption
Please send all enquiries and documents to
Examples of Identification Documents
Stock Price And Corresponding Tick (SP : Stock Price)
Individual Investors
Corporate Investors
Passport (in case the country of residence of the investor is different from
the country of the passport, Residency Certification issued in the country
of residence by a relevant government authority is required for
withholding tax purposes).
Any documents including corporate name, date of establishment, date of
issue, etc. issued within six months as of the date of application by a
government, provincial authority, or public regulatory organization.
Purchase Procedure
In case units in the fund requested are not available, a reapplication for investment will be necessary. - Bankbooks issued at the time of opening an
account with Korea Investment & Securities Co., Ltd will be kept in safe custody by Korea Investment & securities Co., Ltd, unless otherwise requested
by investors.
Redemption Procedure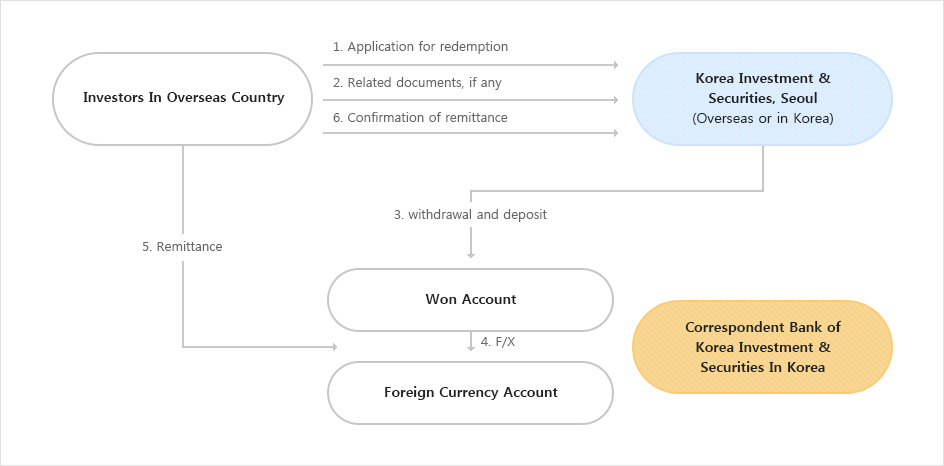 Redemption and remittance will be processed on the business day following receipt in Korea of the Application for Redemption.
Cancellation of Redemption may be accepted only when received one day prior to the date of redemption.